At-Will Employment in California
June 8, 2022
Under California's Labor Code, it is presumed that employees are employed at will. This denotes that either party – the employer or employee – can terminate the employment at any time, for any legal reason, with or without any prior notice. Conversely, wrongfully terminating employment or firing an employee for unlawful reasons is considered a breach of an employment contract. An experienced California employment law attorney can help you understand your rights and protections under at-will employment.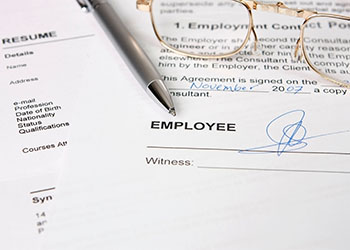 At The Sweeney Law Firm, APC, we are committed to offering knowledgeable legal guidance and reliable representation to employees in their wrongful termination claims. Our skilled attorney can evaluate and investigate all of the facts of your unique situation, and enlighten you about your legal rights under at-will employment, as well as your available options to pursue damages. We're proud to serve clients across Sherman Oaks, Northridge, Van Nuys, and San Fernando Valley, California.
At-Will Employment in California
At-will employment is an employment contract indicating that employment can be terminated by either party – the employer or the employee – at any time, with or without any prior notice, except for unlawful reasons.
Additionally, California is an employment-at-will state. According to California Labor Code 2922, "an employment, having no specified term, may be terminated at the will of either party on notice to the other." This infers that either the employee or the employer may decide to end the employment relationship for any reason, at any time, but without violating the state or federal employment law.
Exceptions to At-Will Employment
Under certain exceptions, employees who lose their jobs may be eligible to file an action against their former employer under California's wrongful termination laws. Here are some exceptions to at-will employment in California:
Implied Covenant: An implied covenant of good faith and fair dealing may be used to support your wrongful termination claims if you can prove that your employment was terminated in bad faith to deprive or deny you of your employment benefits.
Implied Contract: An implied contract for continued employment is an agreement – not in writing but legally binding – that:
The employment will last for a certain period, or

The employer will not terminate employment without a justifiable cause.
Public Policy: The public policy exception allows an employee to sue their employer for wrongful termination in the event that they were fired for:
Refusing to violate a law

Performing a legal obligation

Reporting illegal activity to law enforcement

Exercising their legal rights.
A knowledgeable California employment law attorney can examine every last detail of your case, determine if you have a wrongful termination case against your employer, and walk you through the claims process.
Unlawful Termination in an
At-Will Employment State
Under both California's Labor Code and federal employment laws, employers are prohibited from firing employees based on the employee's race, sex, religion, age, national origin, or disability, or in retaliation for filing a claim or complaint against the employer, or for participating in protected activities.
Therefore, employers have a legal duty to follow federal and state employment or labor laws that address issues like harassment, discrimination, unfair treatment, wages, and hours, as well as the National Labor Relations Act when terminating employment to avoid potential liability.
A worker whose employment has been terminated for illegal reasons is within his or her rights to bring legal action against their employer for wrongful termination and seek damages. An experienced lawyer can explore your available legal options and help you file your wrongful termination claims.
We'll Fight for Justice
Most employers are allowed to fire their employees for legal reasons in California. However, it is a violation of state employment laws and federal anti-discrimination laws to terminate employment for illegal or discriminatory reasons. If you believe that your employer terminated your employment for unlawful reasons, you may be eligible to seek fair compensation by filing wrongful termination claims. A skilled employment law attorney can advocate for your best interests and help fight for the justice you deserve.
At The Sweeney Law Firm, APC, our attorney has the resources, diligence, and knowledge to guide, support, and represent clients in employment law-related matters, including wrongful termination cases.
Using our in-depth legal understanding of California employment laws addressing wrongful termination, we can guide you through the often complex legal process. We will help you hold your employer liable and pursue deserved compensation for your damages.
Contact The Sweeney Law Firm, APC today to schedule a simple case evaluation with a knowledgeable employment law attorney. Our reliable legal team can offer you the strong representation and highly-personalized legal counsel you need to navigate crucial decisions in your wrongful termination claims. We're proud to serve clients across Sherman Oaks, Northridge, Van Nuys, and San Fernando Valley, California.