Can My Employer Deny FMLA Leave?
July 27, 2022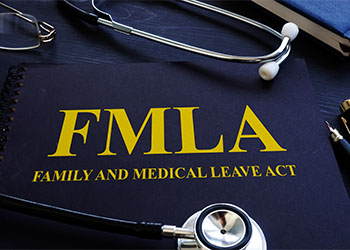 The Family and Medical Leave Act of 1993 (FMLA) was the first piece of legislation enacted after the inauguration of President Bill Clinton. The FMLA guaranteed 12 weeks of unpaid leave for qualifying employees who need to care for their own health, the health of their family members, or the birth or adoption of a child. The bill was later expanded to cover care for family members in the military.
Not all employees qualify for FMLA leave, and not all employers are required to provide FMLA leave. Employees must have worked for their employer for at least 12 months and logged at least 1,250 hours of work time during the preceding 12 months, and employers must have 50 employees within a 75-mile radius to fall under the FMLA's unpaid leave mandate.
If you as an employee meet all these criteria, including your company's having the requisite number of employees, can you be denied FMLA leave? The answer can hinge on providing sufficient medical evidence of your need for leave, whether the leave is to care for yourself or your loved ones.
That being said, if you believe you've been unjustly denied your FMLA rights in or around Sherman Oaks, California, or nearby in Van Nuys, Northridge, or anywhere in the San Fernando Valley, contact The Sweeney Law Firm, APC. We are dedicated to protecting the rights of employees under federal and state law, and we understand all the nuances of the FMLA program. Reach out today.
Who Qualifies for FMLA Leave?
The work requirements have already been set forth in the opening paragraphs – 1,250 hours of work time during the preceding 12 months. However, the 12 months do not have to be consecutive. This extends protections to workers who undertake seasonal employment. Say you work six months one year, then six months the next year, and you log 1,250 hours – you qualify. Of course, the employer must also qualify under the 50 or more employees rule.
An employee can only take 12 weeks for each 12-month qualifying period. If your FMLA eligibility commences in February and you take 12 weeks of leave beginning in May, you cannot qualify for more leave until February of the next year.
What Circumstances Qualify for Leave?
The original wording of the FMLA allowed for 12 weeks of unpaid leave if:
You need to care for yourself because of a serious medical condition.

You need to care for a family member who has a serious health condition.

You need to bond with a new child, whether from birth, adoption, or foster care.
Later, military caregiver leave was added, providing for 26 weeks of unpaid leave to care for a military family member who has been injured on duty.
Definition of Serious Health Condition Under the FMLA
The FMLA defines a serious health condition as an illness, injury, impairment, or physical or mental condition that involves:
Inpatient care in a hospital, hospice, or residential medical care facility; or

Continuing treatment by a health care provider
The first contingent category is pretty straightforward, but the second one is open to more interpretation. What comprises "continuing treatment"? Thus, employees have a lot of wiggle room in categorizing themselves as having a serious health condition. Employers, however, can require proof before granting leave.
Can FMLA Leave Be Denied?
FMLA can certainly be denied if the employee has not logged enough hours or even months of work to qualify. Assuming the employee does qualify time-wise and then requests leave based on a serious medical condition, whether for themselves or a family member, the employer can still demand medical certification.
The certification form can be one supplied by the Department of Labor (DOL) or one developed by the employer, but the employer form cannot request information not specified in the FMLA or its regulations. The employer is obligated to pay for the certification. The employer may also require second and third recertifications at their expense.
The employer can use the original certification to deny FMLA leave or employ recertification to cancel already granted leave. However, the denial or cancelation can certainly be challenged under the second prong of the official definition of a serious health condition, whose only requirement is "continuing treatment by a health care provider."
Legal Advocacy That You Can Trust
If you or a loved one has been denied FMLA leave or later had it canceled, contact The Sweeney Law Firm, APC immediately. We know FMLA law and can help you strive for your full rights under the law.
If you're in the San Fernando Valley area of Southern California, contact us immediately with all your FMLA questions and problems.